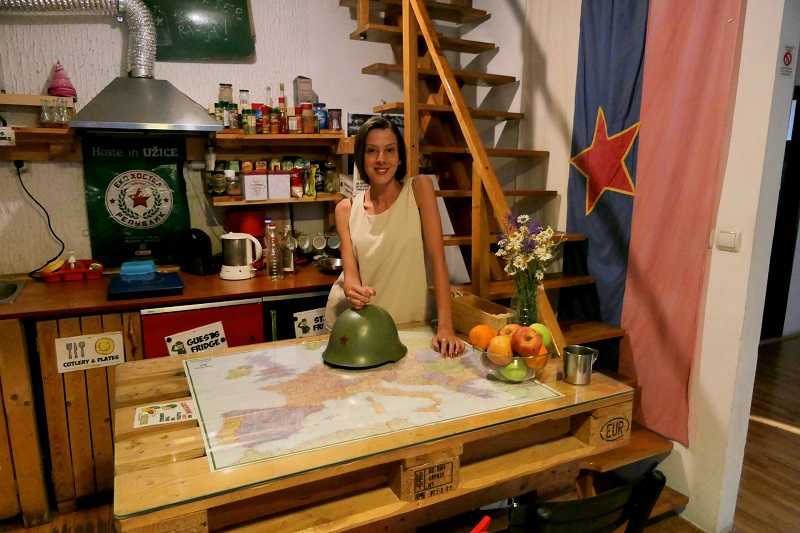 The Incredible Hostel Republik
The Užice Adventure Tour Part One
Well, I've been in Užice before, but I haven't stayed in the city long enough to really get to know it. But, with Serbian Adventures.com, I not only got to know Užice but also I fell in love with this incredible city.
In the city which used to be named after marshall Tito, you can see the biggest statue of the late Yugoslav President which is kept it the History Museum. But, if you really want to feel the spirit of the Republic of Užice, the first liberated territory in the WW2, you need to visit the Hostel Republik. This is exactly where my adventure begins.


The First Stop – Hostel Republic
The hostel is decorated according to environmental standards while its whole interior is inspired by the Republic of Užice. Their guests drink water from military metal water bottles and use an old first-aid case instead of a classic night table. The front wall of the sitting room is covered with a drape painted with characters from the cult partisan movies. Interesting, isn't it?
Within the hostel, there is a cozy coffee-shop run by a Chile guy named Kike who had come to Serbia through the Students Exchange Program, but he was so (over)enchanted with Serbia, its food and people that he decided to stay there.


Zipline for the Courageous (and the Curious)
If you are not afraid of height and you are looking for adrenalin pumped adventure, a zip line skyline drive from the Old Fortress to Čitakova Ridge is an absolute blast! If I dared to do it, anyone can! Because I know an image speaks more than a thousand words, watch my video on Serbian Adventures Youtube Channel and see it for yourself! https://www.youtube.com/watch?v=9pHl_FwZI80



So, dear reader, if you crave for having fun, enjoying beautiful nature, being taken good care of, eating the most delicious food, drinking the best rakija, having the best time in the best company, book the tour online on the website SerbianAdventures.com
Please, share your impressions and leave your comment using #serbian_adventures