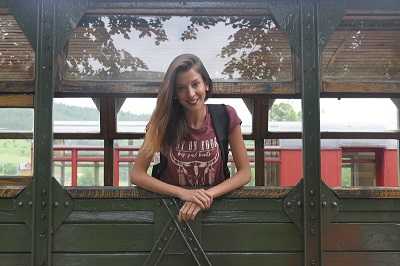 The Perfect Trio: Mokra Gora, Šargan and Mećavnik
If you love mountain trips and want your day to be filled with quality content, then a visit to Mokra Gora, Shargan and Mectavnik will surely become your favorite adventure!

First of all, I want to emphasize - this is not an adrenaline walking tour, and is, therefore, suitable for the elderly as well as families with children. This is, in fact, a sweet, picturesque and unusual journey that takes you through local legends, beautiful conifer forests, and art. Search the website SerbianAdventures.com and find the adventure which works best for you.


The nostalgic "Chargan Eight"
Through a one-hour long train journey from Mokra Gora to Shargan Vitasi Station and back, you'll hear numerous interesting stories, admire fairy-tale landscapes and see the most heterogeneous mass of foreign tourists in one place. Let's start the journey!



The route which is just 15 km long looks like a number eight from bird's eye view, and that's how it got its name. This famous "number eight" has a height difference of about 300 meters at the point of intersection. The Sargan Eight rail is, in fact, part of the railway that once connected Uzice, Visegrad, and Sarajevo. The rail was neglected for a very long time, but it was brought back to life in 2003 when it became a tourist attraction. Since then, coupees have been full of cheerful faces, all skin colors, and ages.

It's good to know that the small train goes through as many as 22 tunnels, the longest of which is the tunnel of the "King Alexander the First", but because it is straight as an arrow, its exit is visible from the very entrance. There is a legend saying that the tunnel was designed by an Austrian military prisoner after the First World War in an attempt to earn his freedom. Unfortunately, he did not experience seeing the success of his work.


The miracle of life on Mecavnik
While filming his movie named "Life is a Miracle", the famous director Emir Kusturica fell in love with Mecavnik. While on the set there were days when the winds whipped and the stormy sky disturbed the shooting plan, this place was almost always bathed in sunshine and tucked in by the surrounding hills as "brothers protecting it," Kusturica would later say.


The director who had lost his home in the war says he found a new one there, and that is how the idea for the construction of Drvengrad was born. From the erection of the first house to the present, Drvengrad (Wooden City) has grown into a well-known tourist resort, favorite among both domestic and foreign tourists.


As you stroll the streets of Drvengrad, you'll be able to see numerous things inspired by Kusturica's films, and also, there's a mural featuring Johnny Depp as an homage to "Arizona Dream" movie. The satirical wooden figures and other embodiments of the author's intellectual wits, which you can see at every turn, make up the collection of details that will certainly fascinate you.




The website Serbian Adventures.com offers different variants for tourist tours of these destinations. Explore the most beautiful parts of Tara National Park and find your own adventure. Search the website and book your tour on the following link: https://bit.ly/34a8laI