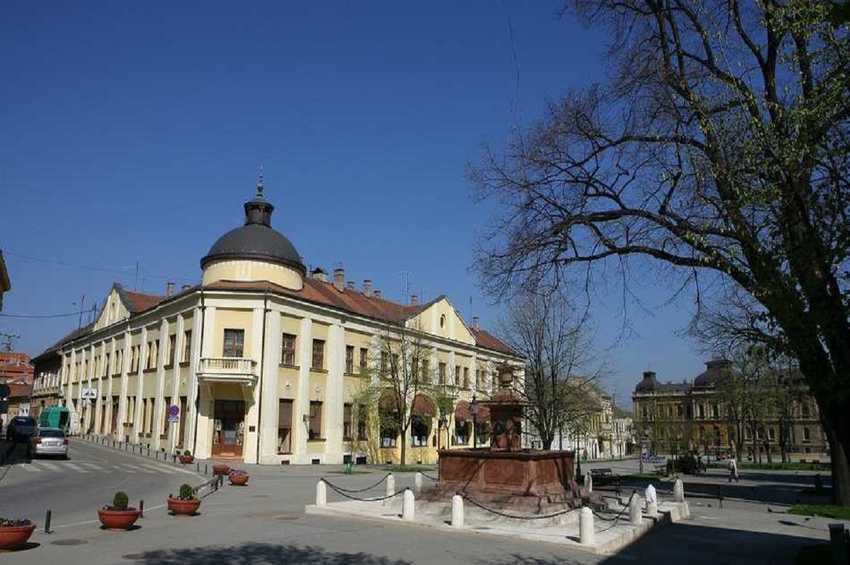 Sremski Karlovci – city of wine that bathes us in beauty
Author: Jelena Stefanović
In my opinion, Sremski Karlovci is like Vojvodina packed in a little city – harmonious and peaceful environment that's ideal for visiting any time of the year. It's picturesque from every single angle you lay your eye on.
Even if I'm not a poet, this city inspires me to write about wine and love whenever I visit it. Wine – because this is the city of wine. Love – because its streets look infinitely romantic and if you're not in love, you'll surely fall in love with this city.
Beautiful blue Danube traverses this city and the beloved viewpoint on top provides a panorama of the river, the whole city and Bacva plain. It looks like you're holding everything in the palm of your hand. This vantage point is very nicely decorated and, for me, it represents a great place where you can just sit with friends on the stairs of the open stage and look at the beautiful landscape.
Sremski Karlovci also owns true cultural heritage. As you walk through it, elegant buildings will start popping out in front of you just like on a colorful painting, and if you're are lucky enough to have a tour guide with you, this colorful painting will be more realistic with the historical stories that accompany it. Firstly, I would like to mention a true monumental beauty – the Patriarchate Court. Its incredibly architecture reminds me of those in central Europe, e.g. Prague, Vienna or Budapest.
You can also visit the Gymnasium of Karlovci, the first Serbian secondary school. People from this region are more familiar with it from the movie "Barking at the stars". I highly recommend that you watch this movie with subtitles before visiting the city. It's a real experience to be on the location that served as the set to one of the region's most favorite movies. This gymnasium also houses a large cultural and historical heritage in its library.
Another frame from the famous Serbian movie "Barking at the stars" can be experienced next to the Four lions fountain, the city's symbol. Sremski Karlovci has a similar legend as many other cities related to the cult of having a fountain in the heart of the city. This legend says that anyone who drinks water from this fountain will return to the city. It goes beyond the typical legends, because it adds that the person who drinks the water will also get married in Sremski Karlovci. So, boys if you fall in love with a gorgeous lady from this city, you know what to do when you find yourself in the city center.
Just there, besides the fountain, everything is quite lively – children run around while adults slowly sip their beverages in the nearby cafes and as you observe this quiet commotion you'll think time stopped, especially if you stand in the shade on a nice and sunny day.
The most important historical location in this city is the Chapel of Peace, a place where Christian and Turkish alliance made peace. For me, a very interesting fact about this location is that right in this historical reconciliation a round table was used for the first time in diplomatic negotiations.
The true treasures of this city are the wineries and the fine wine. The choice is numerable, but also hard to make, yet no matter what you choose you can't be wrong. The wines of Sremski Karlovci bring a warm feeling in the winter and a special charm during summer. Its quality can't be compared, especially when we know that royals drank these wines in their castles. So why would we, without royal blood, even try to find a flaw? The symbol in the form of a product from this city is exactly one wine called Bermet, which is also a protected brand in Serbia, so a glass of this fine brand is highly recommended to try and enjoy.
Everyone who loves sweets must try the famous dessert called kuglof – a cake that has an antique appearance and that always looks like it's made straight from grandma's old oven. Be warned that this dessert will win you over with the first bite and even make you get your wallet to buy more as a souvenir to bring home for others to try. Or you'll even end up like me – buy it for others but on the way home, you'll end up eating it because it's just an amazing dessert.
For the end, I would like to add that the nature lovers wouldn't be disappointed here because there are magnificent locations to have a stroll – lust natural complex Dvorska basta (Royal garden), along with the nearby prominent excursion site of the national park Fruska Gora called Strazilovo. These two places are especially beautiful in early autumn when the vibrant colors of the leaves start to show.
Sremski Karlovci is a place where I enjoyed good wine, sophisticated architecture and got a weakness for the kuglof. For that I'll always happily return to it and I truly believe that you'll also have a similar experience as me when you visit this gorgeous oasis located in Vojvodina.