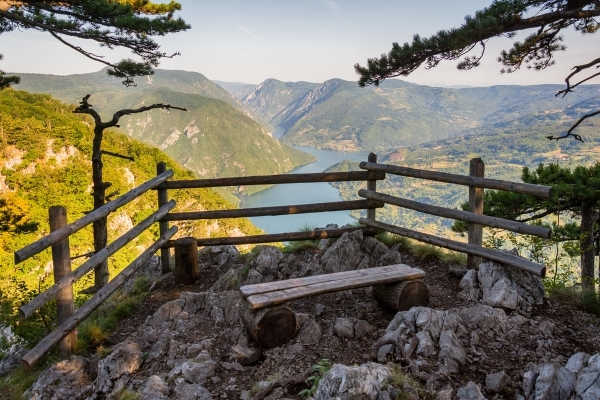 The Best and Most Beautiful Serbia Mountains to Visit
Zlatibor and Mokra Gora, an Incredible Mixture of Traditional and Urban Spirit
If you're searching for a region that is pretty urban and has rich nightlife but is still close to some authentic sights that highlight Serbian traditions, then Zlatibor is the right choice for you!
Located 220 km west of Belgrade, Zlatibor is pretty easy to reach. The greatest advantage is, of course, that Zlatibor is close to some of the most authentic sites in Serbia, so find a tour that will enable you to see all these essential spots, and include it in your travel bucket list:
Sirogojno

- an open museum, a replica of a traditional settlement typical in West Serbia. Sirogojno is best known for its gorgeous and high-quality sweaters with ethnographic motifs.

Stopica Cave

- an impressive cave rich in waters - a

9.5-meter-tall

waterfall, a river that flows through the cave and creates a cascade flow are only a few characteristics of this cave.

Mokra Gora

is definitely among the most authentic sites in the whole nation! Famous for

the Shargan Eight

, one of the first railroads in the country that still functions, is a great opportunity to experience the ride of authentic 20th-century trains while enjoying spectacular views!
Drvengrad is the second-most famous spot

within Mokra Gora. Designed and constructed by Emir Kusturica - a world-class director who w

on one of the most prestigious European awards,

Palme d'Or

at the

Cannes Film Festival -

Drvengrad ethno-village keeps customs and traditions of the local community. Drvengrad and Mokra Gora are the most picturesque areas in the whole country!
Don't Skip Kajmak, the Favourite Side Dish of All Serbs
There is no way to be in Zlatibor and not taste the most favorite side dish of all Serbs - kajmak. This spread made of cheese goes well with all national specialties, whether it's barbecue, vegetables, or bread.
Kopaonik, a National Park and One of the Best Ski Centers in This Part of Europe With the Second-Highest Peak
For more than a decade, Kop, as locals call it, has been one of the favorite ski resorts in Europe, among many passionate skiers. Demanding slopes that amount to 62 km in total and 24 ski lifts that connect them have made the largest Serbian mountain and national park a real tourist attraction. The highest peak is at 2.017 m (Pančić Peak), and there are slopes adjusted for beginners, so if you want to learn to ski, Kopaonik is a perfect choice!
Kop - A Home of Skiing and Luxury Hotels
Easy access from any part of the country's territory, combined with lush nature, rich nightlife in the wintertime, and elegant hotels with spa centers give Kopaonik precedence over other mountains. Kopaonik is a destination worth visiting all year round since there are many hiking and biking trails that provide an opportunity for all adventurers to spend quality time in spring or summer there.
Another benefit is that Kop is very close to some of the most important Serbian monasteries, like Gradac and Sopocani, so consider incorporating some short Serbian monasteries tours in your stay, and your vacation will get a whole other perspective!
Rtanj Mountain
- the Mystic Peak Where Healing Herbs Grow
Located in the eastern part of the country, in the last few years, Rtanj mountain has enjoyed huge popularity all over the world. Known for a mystic peak that resembles a pyramid, many stories have been woven here. However, the lush, unspoiled environment and many healing herbs, as well as fresh air and great climate combined with luxurious hotels, make Rtanj a desirable place to visit.
Hiking, biking, or paragliding are only a few of the activities you can devote yourself to. Exploring the cultural heritage is, undoubtedly, another benefit of this region, because, in the immediate vicinity of Rtanj, there is one of the most important Serbian archaeological sites - Felix Romuliana, the palace of Roman Emperor Galerius, which is under UNESCO's protection.
Stara Planina - the Hidden Pearl of
Serbia Nature
Stara Planina (Old Mountain) is still an undiscovered destination that has great potential for further development, especially as a ski center, since Old Mountain has snow for five months on average. This is also the largest mountain in Eastern Serbia that has been blessed with abundant natural beauties and waters - according to many reports, there are more than a hundred waterfalls that make this destination a perfect fit for all those who enjoy great views and are searching for unspoiled landscapes!
The closest city, Pirot, is only 30 km away from the mountain. If you're eager to learn more about traditional Serbian life, then visit the City Museum in Pirot, where many movies have been filmed, or the medieval fortress Kale, which is definitely worth your time.

Enjoy the Gorgeous Winter Views in Serbia
Pine forests, a gorgeous lake, and vast expanses covered with snow are only a glimpse of all the beauties winter can provide for Stara Planina visitors. In winter, this ski center becomes an idyllic area - kids learning to ski and sledding, families enjoying the affordable and luxurious hotels, and many more details make Stara Planina a real Winter Wonderland.
Ready to Take All Advantages of Your Trip to Serbia While Waiting for Vaccination, Which Is Free for Foreigners?
In the middle of a global pandemic, this nation has found an answer to fight the virus by providing a range of different vaccines to all interested citizens, residents, and non-residents for free. For that reason, many tourists have chosen it for this year's holiday retreat, combining sightseeing with practical reasons.
When Staying in Belgrade, Visiting the Rest of the Country's Territory Is Easy
Since the vaccination process requires two weeks to complete, this will be more than enough time to explore the whole country and visit some of the most attractive places. Also, if you're a digital nomad traveling the Balkans, you should definitely consider this part of the peninsula for the next stop. When staying in Belgrade, sightseeing through the rest of the territory is easy to organize. So after you finish the Belgrade tour and explore all the beauties of the Novi Sad tour, don't hesitate to contact us and organize your trip effortlessly. We will be happy to find the right option for you and show you the best mountains in Serbia!